You might be an expectant parent debating about whether or not you should buy a changing table. Or you might be wondering why you bought the changing table in the first place now that your little one is a toddler and has no more need for it. Just like the convertible crib concept, some manufacturers offer consumers nursery furniture like changing tables that are designed to grow with your child. But if you've already bought a changing table that is not multipurpose or you are reluctant to purchase one that you might not know what to do with when it's no longer being used, here are some suggestions for innovative ways to repurpose your baby's changing table now or when the time comes.
A changing table is designed to hold your child while you're standing and changing your baby, as well as the items will you need to make your baby dry and comfortable again. Since it is a piece of furniture intended for a particular purpose (changing baby) as well as storage (keeping baby products close to hand), this makes it easy to repurpose a change table for any activity that requires standing while doing a task. A changing table is the ideal height for such things as crafting, indoor gardening, repairing small household items or gift wrapping. A repurposed change table can be used virtually anywhere in your home.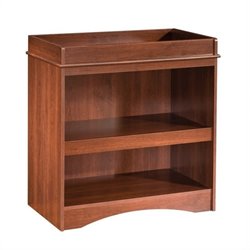 A changing table like the South Shore Furniture Peek-a-boo Baby Changing Table would be the ideal candidate for a curio display case where the sides of the tabletop act as a galley rail, preventing collectibles from falling off (or from curious reaching little fingers).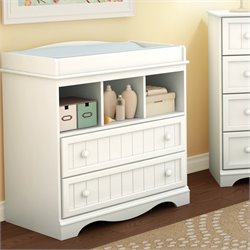 A changing table with combination storage such as drawers, shelves and cubbies would handy as a crafts station or in a sewing room for organizing supplies and materials. It would also be very useful in the laundry room. The flat surface could be used for folding shirts, socks, etc. and the drawers or cubbies will keep a unsightly collection of boxes and bottles hidden from view.
By the time it reaches the kitchen the changing pad and other baby paraphernalia will be long gone. But consider using an open style changing table in the kitchen as a microwave cart or coffee station. You could also use a changing table for household tools storage, a house plant work area or a storage unit in a hallway. Or how about the most "obvious" way to reuse a changing table – in your toddler's room as an extra place to put toys?
Share this Post
[?]