Country cottage is a charming and versatile style to use in a girl's nursery. It's simple, warm and welcoming. It can be the canvas for a wide range of themes from fairy tales like Snow White or Hansel and Gretel to flowers, butterflies and lady bugs to Beatrix Potter characters. Country cottage style baby furniture possesses simple and graceful lines, decorative accents like stenciling and milk wash finishes. A country cottage nursery will be an enchanting first room for your new baby girl.
Country cottage palettes for walls, window treatments and fabrics are traditionally pastel with punches of bolder shades as accent colors. We're matching the wall color (from Sherwin-Williams) to a crib bedding set with a floral theme.
With its folksy charm, the Stork Craft Angelina 3-in-1 White Fixed Side Baby Crib has a scalloped apron, an arched side and decorative molding.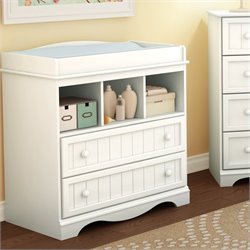 Designed to stand at the right height to eliminate stooping or crouching into an uncomfortable position, a change table is a handy piece of nursery furniture to have. Many types of changing tables, like the South Shore Furniture Andover Changing Table convenient storage options for everything you need to make your baby dry and comfortable again
For a splash of color, again to match the chosen bedding, the Young America by Stanley myHaven TV/Wardrobe Armoire fits in perfectly with our country cottage design. In addition to decorative molding and classic bun feet, it has louvered doors, a definite cottage style feature. Aside from its obvious role in providing plenty of storage for blankies, clothes and toys, an armoire lends the nursery a cozy, vintage feel.
The BeBe Chic Wildflower Collection Baby Crib Bedding Set displays a whimsical country cottage magic. The color and design combination is soothing yet simply chic.
The Quoizel Flowered Lady Bug Tiffany Accent Figure will shed a gentle light in keeping with both our theme and the soft lighting from a table lamp that is recommended for nursery décor rather than overhead lighting which tends to be harsher.
If you're nursery has hardwood or tiled floors, an accent rug will blend the floor, walls and the accessories together. The Fun Rugs Lavender Fun Shags will be great to walk on; after all, you'll be spending a lot of time in the nursery too.
Share this Post
[?]